Blue may not be the first color that comes to mind
when pondering winter fashion, but today

OG
has a bunch of blue inspired pretties to swoon over.
Why not cheer youself with electric blue
nail color to boost not just your mood
Blue can be pulled off with a tone on tone look.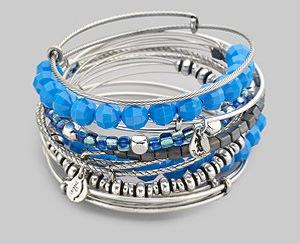 Alex & Ani
Is there any wrong season to wear Alex & Ani bangles?
Stop in the shop to see our selection.
Who can't use a cobalt beanie to liven up any ensemble?
Vanessa Mooney
And bring blue indoors...dreamcatcher, anyone?
Omg how much fun is this velvety faux fur?
The basics: chambray and denim
are perfect winter blue layers.
Vanessa Mooney
Add Vanessa Mooney magic, and you're in bizness.
I think this would be cuter (and more practical) with
Alex & Ani
Again, with the indigo wrist bling...and just a reminder
that winter blues eventually melt, revealing...
spring magic!
(Stop in soon for a taste of spring in the shop.)
I hope this perked up your spirits if you are at all
weighed down with the other sort of winter blues.
You are more important than you think you are.
You have reserves of strength yet to be tapped.
You have much more to accomplish so